testimonials
What Our Clients Say
(Eloise and Swim Coach Joy)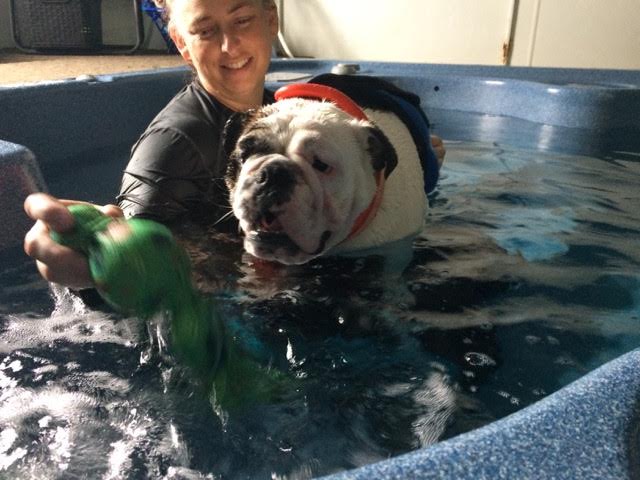 "What a lucky rescue dog Eloise is! Found as a stray in the bay area, she sat in the shelter for quite some time and when no one would adopt her, Norcal Bulldog rescue took her in and got her the medical care needed. And now - here she is recovering from three leg surgeries and wow - she is swimming! Who would have thought a bulldog recovering from ACL and knee surgeries would be paddling around?! Thank you for having so much compassion for animals."
–Jennifer and Eloise
Wendy appears to be more joyful and proud of her ability to walk a "tad" farther and better mobility. My hubby notices she's more spry when he gives her the AM & late PM walks, as does her walker--both of whom are aware of the potential for overexertion. She seems to know to pace herself especially given her endurance had diminished from no longer being able to take long walks for roughly 1.5 yrs; hence she'll stop, sit and resume 5-10 minutes later.
–Wendy at her First Swim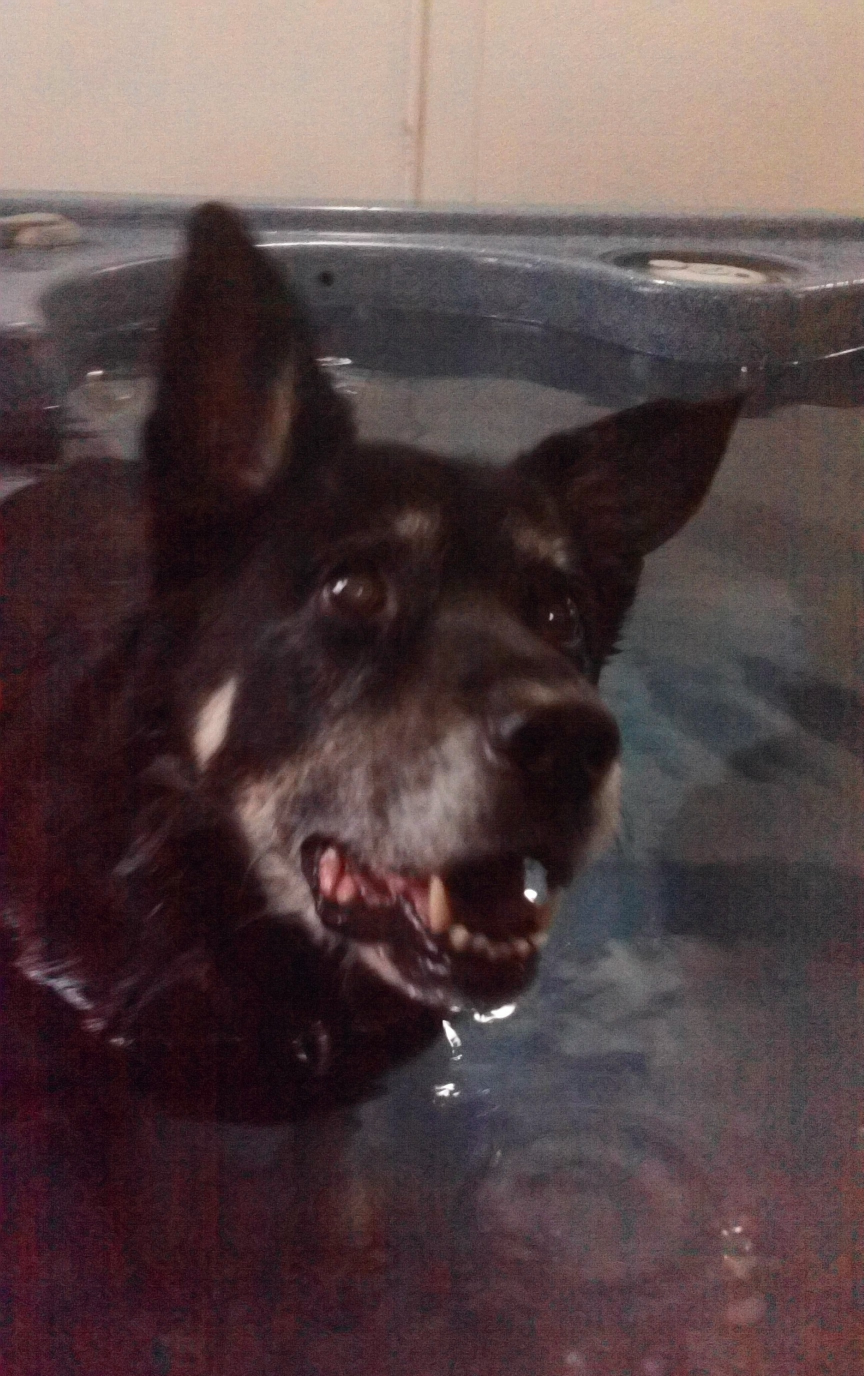 "I started taking my Australian Kelpie, Scout, to The Rex Center in January of 2011. Scout had torn her ACL and was recovery from surgery. A lifelong swimmer, Scout could no longer make the walk to the ocean for her swims. Scout has had weekly swims at The Rex Center ever since. She is now 13 years old and is stronger, more fit and happier than she was two years ago. Her swim is the highlight of her week. Her muscle tone and leg strength has been key to her longevity and I am so grateful that The Rex Center exists."
–Ann Kloepfer and Scout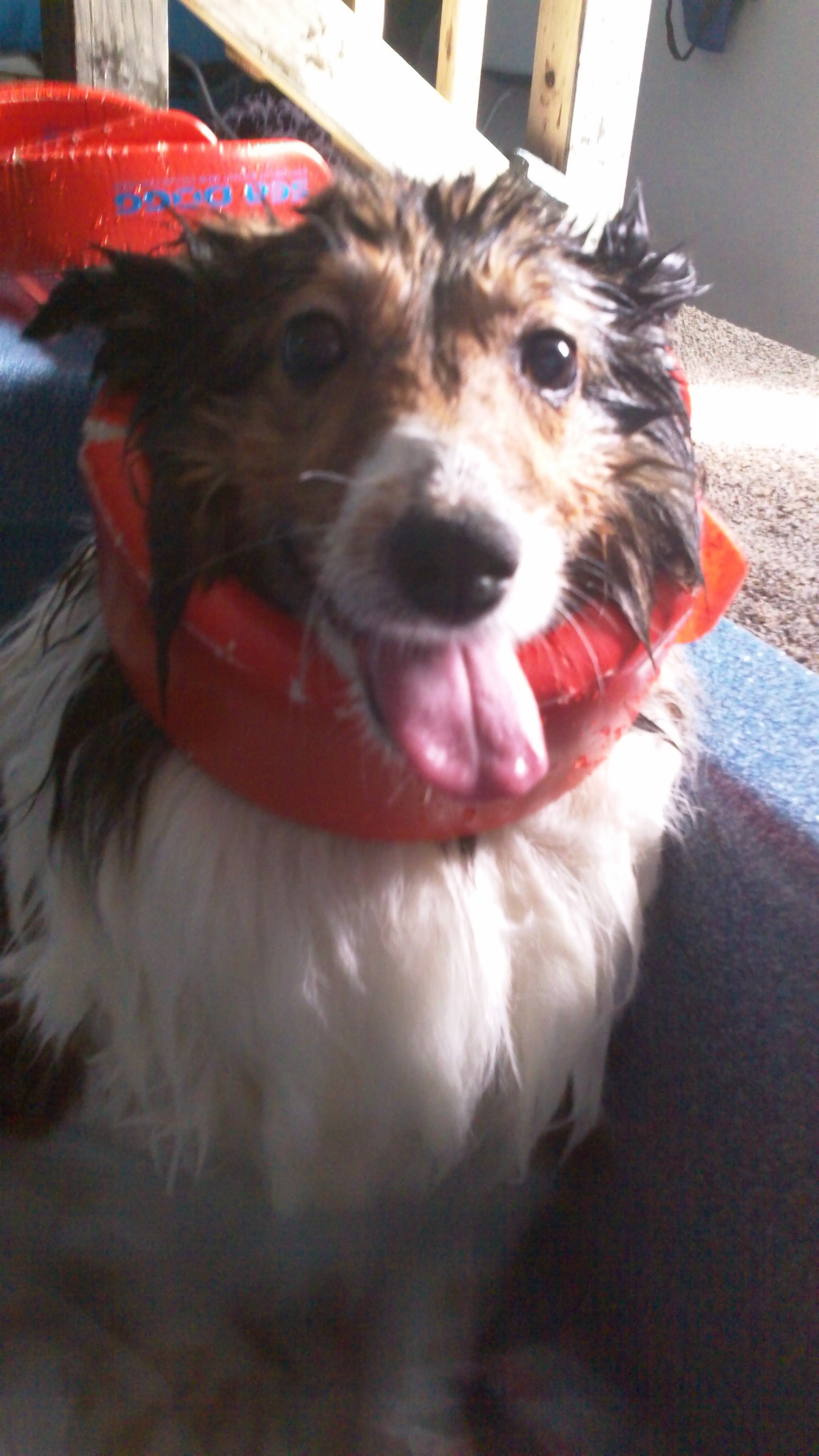 Dakota is a 10 year old sheltie who has been diagnosed with a severe form of degenerative joint disease. Her condition has steadily deteriorated over the last 3 years to the point that she could barely walk about ¼ block without assistance. Under the guidance of a canine orthopedic surgeon we tried leg braces to no avail. Under the guidance of a holistic vet, we have changed her diet and introduced acupuncture which has been modestly helpful. Her holistic vet recommended the Rex Center. I was reticent to try swimming given Dakota has always hated to get wet. Well—I am so glad I tried it. Within just 2 sessions I saw improvement in her confidence and her ability to move her hips and legs. And to my surprise, she enjoys coming to these sessions! Now after several sessions of steady improvement, I am a true believer in the potential for swim therapy to help dogs like Dakota. She is moving again! She can walk a full block without assistance, she can play-bow again, her spirit is up and confidence is terrific. She is having more good days than bad days now. I encourage anyone to try this for their pet!
–Jennifer Bonilla and Dakota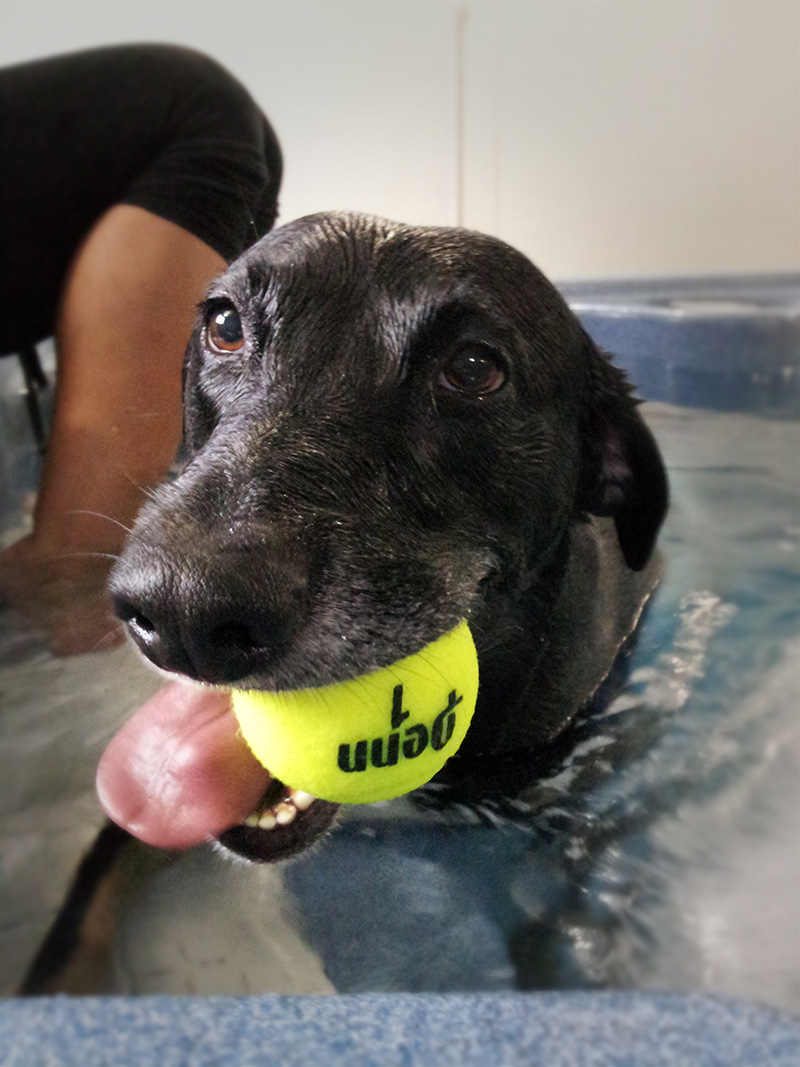 Hi, my name is Kai. I've been swimming at the Rex Center for about 6 months. I started with an assisted swim but now I'm comfortable swimming on my own. As soon as I see my tennis ball in the pool, I jump right in to fetch it. Sometimes, when our car gets close to The Rex Center, I recognize the smell and get so excited that I start whining. I need exercise to stay calm and happy so I usually go swimming once per week. Playing fetch in the pool helps keep me in a great mood. When it's a rainy day in San Francisco, I enjoy it much more tha running outside. It's much safer (and much less muddy) than swimming at the beach. I'm so happy that my family found the Rex Center. There's much more to say but I just got back from swimming and I want to go take a nice long nap.
– Kai (Transcribed by Pei Hung)